Brought to you by ASUW and Affordable Tuition Now!, Lobby Day 2005 will be March 1st down in Olympia. This is your chance to meet with legislators and talk about the issues affecting you as a student. With an increasing deficit and a governor who says she doesn't want to put in place new taxes, the legislators have their axes and higher education is a big ol' target. Like the idea of a 15 - 20% tuition increase for next year? Then come let them know!

And not to worry, the Faculty Senate has endorsed the event so unless you have a quiz, test, or lab that can't be made up you should be excused. (See their resolution here.) So come fight for lower tuition, enjyo a free breakfast and lunch, and meet your fellow UW students.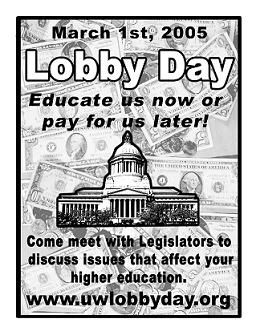 Visit www.uwlobbyday.org to sign up!