Just wanted to let everyone know that this Thursday, Friday, and Saturday are UW's annual V-Day performances of the Vagina Monologues.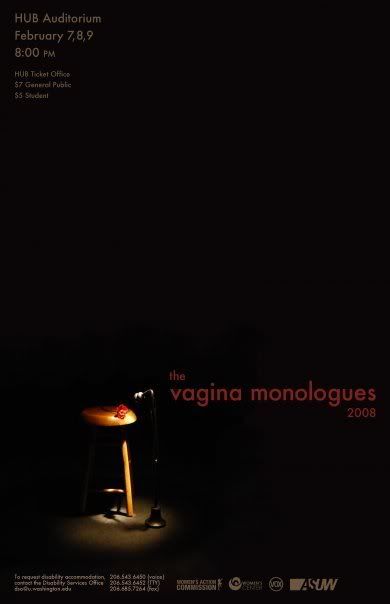 All performances are at 8pm.
$5.
In the Husky Union Building Auditorium on UW campus.
All proceeds benefit Home Alive.




What are the Vagina Monologues?
Well, there were a series of interviews--interviews with all sorts of women from all different races, cultures, ages, backgrounds, and experiences. Women were asked to talk about their vaginas. Some stories were funny, some were sad and gut-wrenching, and some were empowering. These interviews were then turned into monologues, and that is how the play came to be.

Is it just a giant vagina talking to me?
No. We're real women sharing real women's stories. There is no nudity in the play. Although... there is moaning. ;)

I'm a woman, why should I see this play?
Because the Vagina Monologues are inspiring, healing, and empowering. You will connect with at least one--if not most--of the monologues. The stories will make you laugh, cry, and love your vagina.

I'm a man, why should I see this play?
Because the Vagina Monolgues are inspiring, funny, and heartfelt as well. The stories will make you laugh, cry, and appreciate vaginas (even more).

Where can I get tickets?
Tickets are on sale at the HUB ticket-counter, or outside the HUB auditorium the nights of the performances. Get there early--shows always sell out.

What is Home Alive?
Home Alive is a Seattle based anti-violence non-profit organization that offers affordable self-defense classes and provides public education and awareness. We believe violence prevention is a community responsibility as well as an individual issue. Our work in self-defense encourages everyone to recognize their entitlement to the basic human right to live free from violence and hate. Our goal is to build a cultural and social movement that puts violence in a context of political, economic and social oppression, and frames safety as a human right.



Any other questions? Feel free to ask!


And don't forget to buy a Vagina cookie on the HUB lawn all this week!